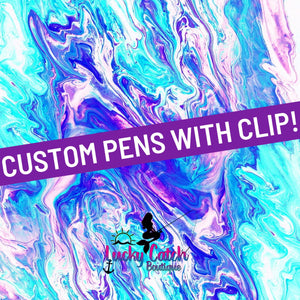 This is for a custom order pen. If you want a name on the pen, please note it in the NAME box as well as the color you want the name to be in the next box. 

Please be sure you check the spelling because I copy and paste directly to my designer. In the customization box, please note what color you want the background color to be as well design (leopard, sunflowers, rainbow, polka dots, baseballs, music notes, solid glitter, sports teams etc).

My designer will match your request as close as possible. Please remember she is working on a small, round pen so some designs are just not possible.

If you have any questions, please reach out to me before placing your order. Please fill out one order PER pen.